CLAVE HENRYS, QUALE SCEGLIERE?
HENRYS – http://www.henrys-online.de
1) Children's Club Flow: Sono delle clave per bambini, ridimensionate rispetto le normali proporzioni e più leggere.
2) Classic Short: Ha il corpo più corto rispetto le altre clave e un manico di lunghezza standard, quindi ha un giro un po' più lento.
3) Pirouette: Sono le clave più popolari delle scuole di giocoleria. Ha un corpo corto e un manico lungo che permettono un giro abbastanza veloce. È perfetta per chi pratica juggling solo a più di 4 clave.
4) Classic Long: È la clava che viene utilizzata di più fra i principianti e la prima che viene comprata, ha un corpo lungo e sottile e una lunghezza standard. Ha un giro né troppo lungo né troppo lento che permettono il suo utilizzo sia nel juggling solo sia nel passing.
5) Albatros: È "LA" clava per il passing: ha un giro molto lento che permette di destreggiarsi bene nel passing. Può anche essere usata dai principianti o da chi pratica giocoleria in posti ventilati – il suo peso permette una maggiore stabilità anche in condizioni atmosferiche che normalmente non permetterebbero una giocolata serena.
6) Delphin Long: Ha un manico e un corpo di lunghezza standard. È quasi indistruttibile poiché ha un bastone interno di legno molto più spesso rispetto agli altri modelli.
7) Delphin Short: Ha un corpo corto e un manico di lunghezza standard. Ha un giro un po' più rapido rispetto alle Delphin Long, quindi adatta ai bambini.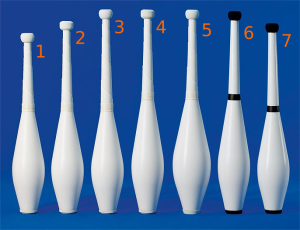 Scrivi un Commento
You must be logged in to post a comment.